AYDT + the Community
Supporting and Building Relationships By Giving Back
AYDT and the Community
Supporting and Building Relationships By Giving Back
American Youth Dance Theater is committed to staying the course and making long-term commitments to social justice through supporting these organizations and plans to offer other opportunities to fundraise for them throughout the year. We look forward to our collective commitment and continued fight for social justice, the advancement of the Black Lives Matter movement, and undertaking this important first step in creating a more diverse and well-informed coalition of dancers!
The AYDT Firebirds was organized in 2007 as a volunteer dance company made up of our upper-level students in Ballet and Broadway/Jazz, ages 10-Teens, who have been studying dance for at least three years and have been taking two to three classes per week. The repertoire performs ballet, jazz, tap, and modern dance routines. Since its inception, The Firebirds have performed at Ronald McDonald House, Calvary Hospital, Women in Need Shelter, West Side Senior Center, DeWitt Nursing and Rehabilitation Center, and the Mary Manning Walsh nursing home.
Members of the group dedicate a great deal of time to their dance education and this is an ideal opportunity for them to share their knowledge and joy of dance with others in the community, especially those who are ill or handicapped and would otherwise not be able to go to a performance. It's also a great way for these dancers to see that there are other kids – some their own age or even younger – who are suffering from illnesses that prevent them from being able to enjoy activities that we all take for granted, such as dancing or sports. And it's not just young people who are the audience: in an age where the family unit often does not include grandparents nearby, visiting geriatric hospital wards or nursing homes is a valuable way for The Firebirds to interact with and learn from elderly people.
WATCH THE FIREBIRDS PERFORM AT AYDT'S LUCY WALSH BENEFIT
Lucy Walsh Fund
American Youth Dance Theater created The Lucy Walsh Fund as an outreach program in memory of one of our students who died suddenly and tragically in June 2011. Lucy Walsh was a ballet student who began dancing at AYDT at the age of four and continued until her death at age 14. She had reached the stage in her training where she was a regular soloist in our recitals and a role model for many younger students.
Through The Lucy Walsh Fund, we aim to honor Lucy's commitment to dance by offering free or low-cost dance classes to children in financial need in order to afford them an opportunity to receive dance training that they might not otherwise be able to experience. The donations from private individuals and corporations will be used to cover our administrative expenses and supplemental costs for this program.
The Lucy Walsh Fund is a sponsored project of Fractured Atlas, a non-profit arts service organization. Contributions for the purposes of The Lucy Walsh Fund must be made payable to Fractured Atlas and are tax-deductible to the extent permitted by law. Donations may be made by check made payable to "Fractured Atlas" and mailed to:
American Youth Dance Theater
428 East 75th Street, 2nd Floor
New York, NY 10021
AYDT Elevates
AYDT ELEVATES WORKSHOPS
Past AYDT Elevates workshops have included a Salsa and Bachata Workshop for National Latino and Hispanic Heritage Month, an West African Dance Workshop for Black History Month and a Bollywood Dance workshop for Women's History Month. These workshops are done with the purpose of broadening our student's horizons and raising money for a charity coinciding with the style of dance or Culture included in the workshop. In the past, this has included the Juntos Collective, Ladies of Hip Hop, and The Loveland Foundation. We make an effort to schedule Workshops monthly on Saturdays during the school year, so keep an eye out for the next one!
DONATE THROUGH VENMO
@Natalia-AYDT (Use the Venmo QR code). The suggested donation is $10 but donations of any size will be greatly appreciated. When donating, in the description write the date and AYDT Elevates Series, ex. 10/25 AYDT Elevates Series.
By streaming and participating in this class, you acknowledge and assume all risks of injury with your child's participation in this training. You agree that American Youth Dance Theater shall not be liable for any injury or damage in any way or form that results either directly or indirectly from your child's participation in AYDT Elevates classes from anything before, during, or after the training. Children under 18 should not participate without their parent's knowledge and consent.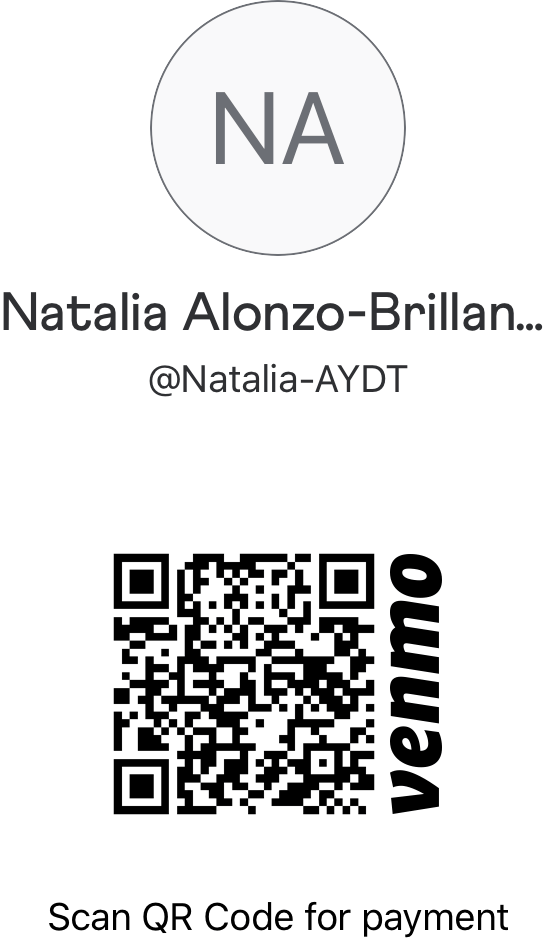 AYDT Elevates Phase Two
PLEDGE TO DONATE ANNUALLY TO BLACK FOUNDATIONS
Black Girls Code and My Brothers' Keeper have been selected as organizations that promote growth and opportunities to Black children and young people who have not grown up with the advantages that we and our student body often take for granted. AYDT has pledged to donate $500 from profits annually split between these two organizations.
Charitable Donations
American Youth Dance Theater regularly donates to annual fundraising auctions in many local schools and makes a number of annual donations on behalf of its student body to charitable organizations including: